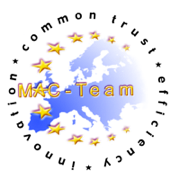 MAC-Team is an international not-for-profit association under the Belgian law.
It results from a long last European University-Enterprise cooperation initiated in the 80's under the very first support of the European Commission in terms of Education and Training in general (even before ERASMUS) and in vocational training in particular: the COMETT programme.
The meeting of the General Body of Direction took place on the 9th January 2017.
The 2016 Activity report and Accounts were presented following the procedures of the Statutes and Internal Rules, and the election of the new "Body of Administration" took place as foreseen by the Statutes.